Hydraulic 2M Platform Lift from RAiSE Lift Group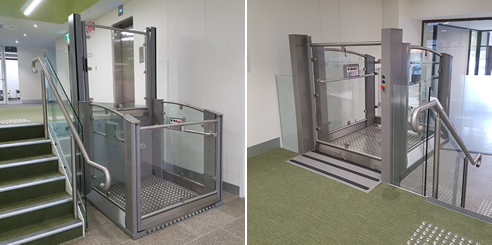 Pollock 2m Independence Platform Lift - Access for all
An elegant solution for up to 2 metres of travel.
The 2m Independence Platform Lift raises the user up to a maximum of 2 metres while providing modern aesthetics and configuration options.
The hydraulically driven platform lift is suitable for both internal and external environments.
Functional and stylish, our 2m Independence Platform will compliment any space, moving quietly between floors whilst providing a safe and reliable disablity access solution.
SECTORS
Public Access
Private Access

COMPLIANCE
AS1735.15
AS1735.12
BCA E3.6
PLATFORM SIZE
1100 x 1400mm
0.1 m/s speed - Platform safety edge - Battery backup

NSW:
02 9932 3600
VIC:
03 8651 2999
NSW: Balgowlah Business Park, Unit 1, 28-34 Roseberry Street, Balgowlah NSW 2093
VIC: 43 Bakehouse Road, Kensington, VIC, 3031