Digital Locker Locks - KM-3071-PP by KSQ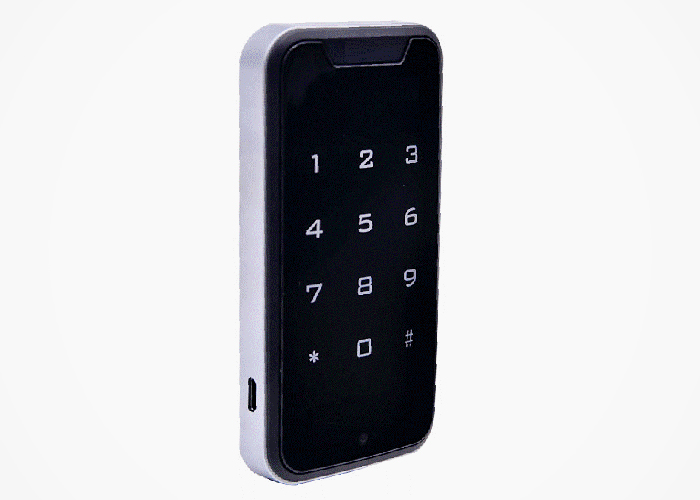 KSQ's KM3071PP has the best of both technologies all in the one lock! A digital Touch Screen Keypad with an integrated RFID Mifare Card Reader. Features a modern slimline touchscreen keypad with an integrated card reader offering users either or the choice of a 4-15 digit PIN or RFID device for access.
Compatible with all Mifare 1K 13.56 MHz cards, fobs, and wristbands. Black gloss keypad face with satin silver zinc alloy chassis, white ABS Body and battery compartment, anti-friction roller striker plate with a spring-loaded plunger to 'pop door open' when unlocked, and an Emergency Power Bank with Micro-USB connecting cable all included in the price with MOQ 50+ Locks.
Features include:
Master override code of 4-15 digits in length.
Up to 3 master override RFID cards, fobs, or wristbands.
Private User Access Code of 4-15 digits and/or Private User RFID Access using a card, fob, or wristband.
Can be programmed for single or multi-user access with up to 27 guest cards, fobs, or wristbands.
Auto relocking latch for easy push to close and lock without using your PIN or card.
Powered by 3 AAA Alkaline Batteries for up to 12 months operation (not included).
Through door installation only needs 3 x 5mm holes for 2 x fixing screws and connecting ribbon cable.
Suits steel locker doors or wooden doors up to 24mm door thickness.
Anti-theft code lockout. Shuts down keypad and card operation for 60 seconds after 4 incorrect attempts.
Micro USB emergency power port, Low Battery Alarm and LED, Micro-USB power bank cable included.
Programmable functions:
One Time User Mode
Permanent User Mode
Up to 3 Master Override Cards
4-15 digit User Code
4-15 digit Master Code
KM3071PP is ideal for:
School lockers – find out how we can easily make the locker locks operate with the Student ID cards!
Gym Lockers
Swimming Pool Lockers
Staff Lockers
Hot Locker Systems
For more information regarding Digital Locker Locks - KM-3071-PP by KSQ, visit keywatchsystemsqld.com.au.