ChemSet™ chemical anchors from Ramset Fasteners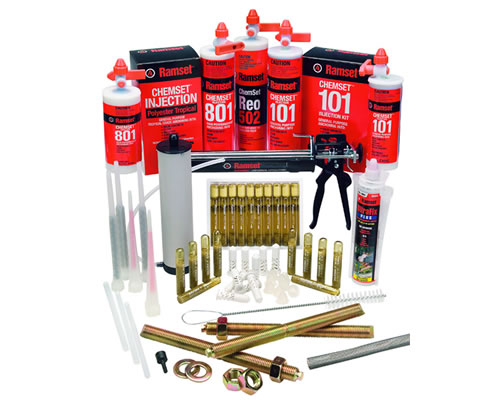 ChemSet™ Chemical Anchoring
Superior Anchoring Technology
The Ramset™ Chemical Anchoring range consists of Chemset™Injection Adhesives and Chemset™ Maxima™ glass capsules.
Chemset™ is the leading Chemical Anchoring brand in Australiadue to its high quality, reliability and versatility.
The versatile Chemset™ range provides different options of costand performance for anchoring threaded studs, reinforcing barsand starter bars into solid and hollow substrates.
Only Chemset™ Injection anchoring adhesive cartridges have theunique tap valve, which is essential to preserve contents of partused cartridges for use later on, the next day or even the next job.
Chemset™ is the specifiers' choice, with easy to use engineeringdata created by Ramset engineering professionals and backed byrigorous testing at the Ramset™ Product Engineering Laboratory.
For more details please refer to our website www.ramset.com.au
or call our customer service team on 1300 780 063