Copper Colour Facade Cladding from Alucobond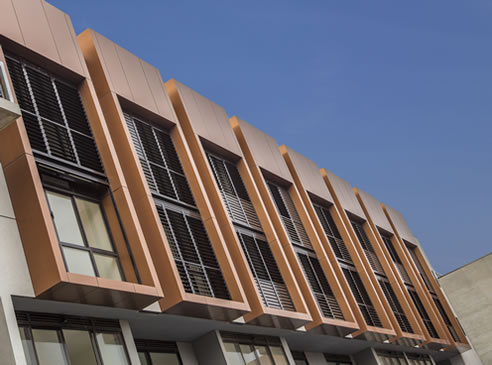 Wyndam Harbour, Melbourne's new stylish Marina Square brings deluxe waterfront living with a dynamic mix of cafes, restaurants, shopping and sandy beaches.
The picturesque Wyndham Harbour project, clad with ALUCOBOND® NaturAL Finesse Copper, provides unmatched seaside luxury. The finely textured facade surface enhances the natural beauty and character of aluminium composite material.
ALUCOBOND® with its 5005 marine grade alloy and superior fire performance was ideal for this project with the close proximity to the water. With excellent product qualities such as exceptional extreme flatness and rigidity, low weight, excellent formability, weather resistance, simple fabrication and ease of cleaning you can see why this product was chosen.
The NaturAL Finesse surfaces amplify the natural beauty and character of aluminium to enhance the design of this project. The finely textured surfaces scatter light for a close-up visual effect, while retaining the look and lustre of smooth aluminium from afar. NaturAL Finesse is a subtle rapprochement to real metals without its inconvenient creating a refined metallic look.
The longevity, formability and UV stability of ALUCOBOND®, provides architects with the freedom to design bold projects like Wyndham Harbour.
Join the conversation: facebook.com/alucobondarchitectural