Lightweight Facade Cladding - INEX>EXPRESS from UBIQ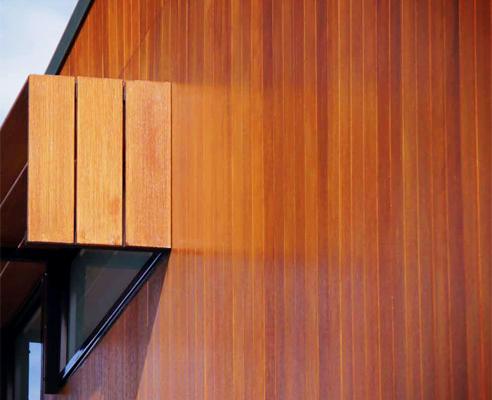 INEX>EXPRESS is a durable, lightweight yet incredibly strong board designed for façade cladding on both residential and commercial applications. It is delivered pre-primed with the first coat of your selected finish; offering a huge range of finishes to deliver an authentic timber or stained appearance of your choice. All of this without the long term maintenance issues of natural timber, or even other timber composites.
At only 16mm thick INEX>EXPRESS can be cut like any other comparable fibre cement product. Each sheet comes with a tongue and groove edge for a tight fit and is with routed 'V' grooves on its surface for that 'timber cladding' appearance, but without the need to fix individual boards. An INEX>EXPRESS can be fixed in 20% of the time of individual boards. Critically, INEX>EXPRESS is fixed directly to a timber or steel frame and is therefore a component of the wall itself; unlike other such treatments to facades, which tend to be a cosmetic addition the wall. So INEX>EXPRESS offers considerable savings in construction and materials.
In addition INEX>EXPRESS wall systems offer compliance with all bush fire zones, including BAL-FZ; and a Fire Resistance Level (FRL) of 60/60/60. Whether your selection of facade materials be governed by; Time and Cost, Appearance, Durability or Fire Resistance Performance - INEX>EXPRESS delivers.