GRP Pipeline Technology from Iplex Pipelines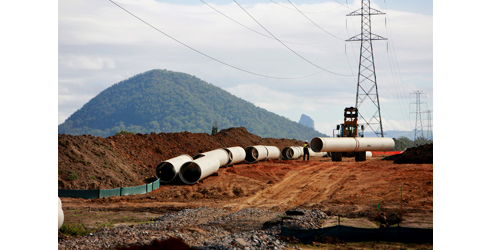 Iplex Pipelines has been a leader in the evolution of GRP pipeline technology for the water industry in Australia and New Zealand since 1985. In line with Iplex's policy of keeping abreast of the lastest developments in pipe technology, a commerical agreement has been formed with RPC Pipe Systems Pty Ltd of South Australia for Iplex to market exclusively the FLOWTITE® pipes produced at their Lonsdale factory.
FLOWTITE® GRP pipes were first produced in Norway in 1971. The process has been refined over the intervening period to become the "State-of-the-Art" process in GRP pipe manufacture. The technology is now being used worldwide on all continents with more than forty four winding machines located in twenty licensed pipe factories.
FLOWTITE® pipes are manufactured in sizes ranging from DN300 to DN3000 for both pressure and non-pressure applications.
The unique properties of FLOWTITE® pipes and fittings provide many advantages including high ring stifness and hoop strength, immunity from galvanic and electrolytic corrosion and ease of installation. These features make FLOWTITE® an attractive option for a range of applications including: