Igloohome Bluetooth Deadlock from KSQ - No Internet or Wi-Fi Needed!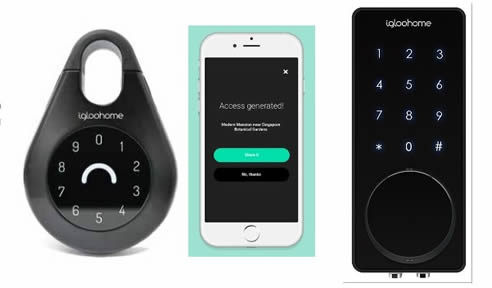 Igloohome Smart Deadbolt-02 is a smart Deadlock that works offline without internet, WiFi, data or power cabling to provide secure access to your home, office or other access doors without using any keys or cards 24/7.
Using our free Igloohome OS or Android phone or tablet Smart App, you can open your door by entering your own Master PIN, touching an icon on the phone App or by simply being in close proximity to the lock with your phone. It's your choice. You can also send your authorised PIN or B-Key (Bluetooth) to anyone, anywhere, granting them authorised access on a permanent basis, one time access or for a duration start date/time and finish date/time.
Igloohome Smart Deadbolt-02 is mounted permanently to any standard door to replacing or adding to your existing lock. It is powered by 4 alkaline HD batteries for up to 12 months operation (depending on use) and features multiple User PIN's or B-Keys, 2 emergency mechanical override keys, notifications to your phone for battery status, acceptance of B-Keys, time and date log of openings and by whom, external emergency power (using a 9-volt battery), internal override privacy switch to deny access of PIN's and B-keys, a secure deadbolt function with internal turn knob and an optional setting for auto-re-locking.
The Igloohome Smart Deadbolt 02 is the ultimate lock for key-less access into your home, rental properties, Airbnb guests, motels, hotels, hostels, or for emergency access to elderly or disabled people, after school access, family and friends, contractors, guests, all without using keys.