Phase Changer single to three phase Power Converter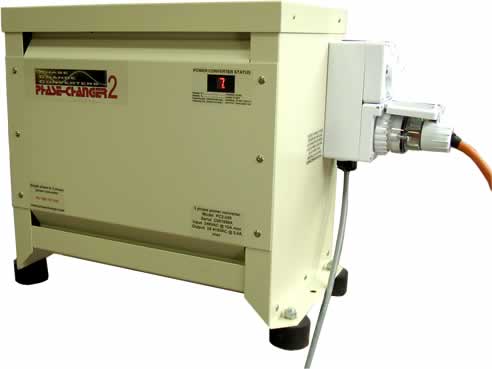 The PhaseChanger Power Converter is Australia's most technologically advanced Single-to-3 phase power converter. With over one thousand converters Australia wide, our Australian invented and manufactured converter is supported with a 3 year hardware warranty and a one month money-back guarantee on your application.
The PhaseChanger converts your utility single-phase 240V input into three-phases of balanced 415V power output to run your three phase motor machines at better than 97% efficiency. With Australian-Made micro-processor technology, the unique design of the PhaseChanger balances the three-phases better than any other converter to make for easy and smooth running of your three-phase motors.
The PhaseChanger was recently showcased on the ABC's "New Inventors" and was a finalist in the annual 2007 Australian Next Big Thing awards. The PhaseChanger is a cheap and inexpensive way to get three-phase power without the use of inefficient and costly diesel generators or the huge cost of converting to utility three-phase. Support an Australian made and green power converter for prices starting from $1000.
Our product can be used for nearly all three-phase machine applications up to a power of 37 kilowatts or 50 horse power including Lathes, Milling Machines, Surface Grinders, Guillotines, Drills, Tyre Balancers, Hydraulic and Screw-Type Hoists, Edge Bands, Saws. Plasma Cutters, Printers, Washers, Compressors, Air Conditioners, Refrigeration Systems, Submersible Pumps, Grinders, Hydraulic Systems, Packaging, CNC Machines, Refrigerated Containers and Cool Rooms, Olive Oil and Wine Presses, Center Pivot Irrigators, Dairy setups, Fans, Spot, Mig, Arc and Tig welders.