Single and Double Casement Windows from Rylock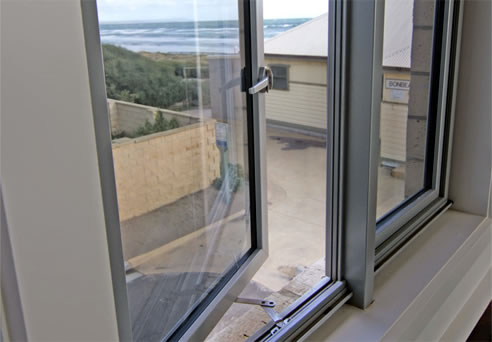 Traditionally linked to continental architecture, casement windows are increasingly chosen as much for looks as for function. Single or double casements can be manufactured within a common frame. Where there are large fixed panels, ventilation can be taken care of with a casement at each end.
Rylock casement windows take advantage of cross-breezes for ventilation. As a design element, they can help bring your energy rating towards 6 stars, especially when specified on opposing sides of a room. Thermally Improved Suite casements feature stays that hinge the sash open a full 90 degrees, encouraging ventilation. A selection of fly screens is available, in hinged or fully removable configurations.
Thermally Improved Suite windows have a powder coated outer frame. This is shielded internally with a hardwood reveal, which makes for an energy efficient window. Double glazing minimises heat loss, whilst specifying a high performance glass in the double glazed panel enhances this already high performance window.