Low Rise Apartment Elevators from Schindler Lifts
The Schindler 3300 is our solution for residential buildings. This elevator is designed ingeniously, is highly standardised and flexible to install. The Schindler 3300 represents peace and quiet. Thanks to its traction media, the Schindler 3300 moves very quietly. A feature that benefits the entire building.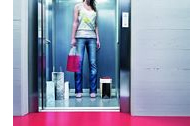 The car of the Schindler 3300 is spacious. With traction media, standardised elevator shafts can hold cars that are up to 250 mm wider and accommodate one or two passengers more than in conventional shafts.
Four interior styles are available: from a fresh, young design to a functional, modern line and two sophisticatedly elegant styles - so you will find exactly what you want.
The Schindler 3300 is environmentally friendly and economical in the use of energy, which contributes to lower operating expenses.
Automatic evacuation is a standard feature of our elevator systems. Even in the event of a power failure, the Schindler 3300 will take you safely to the next floor.
For additional information on shaft construction dimensions, elevator car sizes and various interior designs & features, please refer to the brochure under 'downloads' or contact your nearest branch for more details.