Electronic Key Dispenser KeyBox from KeyWatch Systems Qld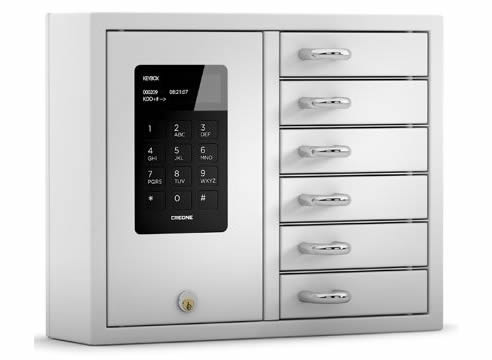 The KeyBox 9006-S is an intelligent key dispenser that provides 24/7 access for accessing and returning keys. It's one of the Creone KeyBox range that is designed specifically for dispensing keys for late check-in guest accommodation, fleet vehicles and car rentals, emergency services keys, after hours contractor keys for commercial offices, industrial sites and shopping centres.
It features 6 individual compartments that can hold keys, cards, remotes, documentation and even restricted medications etc. It features a tactile illuminated keypad with integrated display for easy user access to one, or more or all of the solenoid locked compartments and has a comprehensive Administrator Menu for programming user access directly at the cabinet.
The KeyBox 9006S dispenser records up to 3,600 time/date stamped historical key/user events and provides individual access for as many as 500 users. KeyBox is fully expandable for up to 15 additional cabinets of any model in the KeyBox Expansion range. Although it is a totally stand-alone system that can be programmed directly from the keypad and display it offers an optional KeyWin Light Software program for convenient programming at your PC or laptop computer.
The software option includes a USB reader port at the cabinet and a USB Memory Stick that is inserted at the cabinet to download programming and upload user and key transactions. The KeyBox 9600-S is equipped to be connected to an external alarm systems and also to any card or biometric access control system.
It is powered by mains supply between 110V-230VAC and has a rechargeable battery backup. Standard features include lockout settings for 3 invalid code entries, programmable time/date controlled user access, dual user code access and restricting access to authorised users to one, multi or all compartments/cabinets.
The 9006 S can be purchase without the software for stand-alone operation for future upgrade or a KeyBox 9006B model is also available for applications where software and or user key transactions are not required
Optional Accessories:
Alarm contact outputs, Alcohol Interlock, Facade Mounting Kit for in-wall flush mounted installations. KeyWin Light Key Management, Software, Expansion cabinets (up to 5 different KeyBox sizes/models are available as Master Cabinets or Expansion cabinets in the range as well as a stainless steel version for installation in extreme environments, hospitals, aged care and health facilities and marine applications
Specifications:
500 user access via unique 1-8-digit PIN * 3,600 Event Log * 4-Row Display * Back-up battery Choice of language * 345mm x 280mm x 94mm Weight 6.0 kg