Seamless Indoor-Outdoor Areas with Hydro Zero Threshold Drains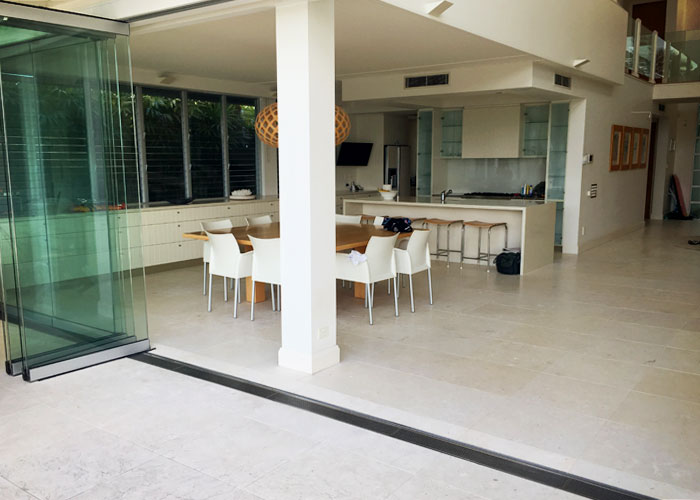 Hydro is determined to deliver both high quality aesthetics and convenience with their modern, high-performance water management system - Zero Threshold Drains. For more than 16 years, Hydro has steered clear of substandard or inferior materials to focus on building client trust with their own quality products and services, hence you may rest assured that your threshold drain is well worth the investment.
Hydro Zero Threshold Drains are built to exceed expectations for their aesthetics, hygiene, and long-lasting values. This drainage system is built using Hydro's standard stainless steel grades 304 and 316, which are known for their unrivalled durability, strength, and corrosion-resistance. It also comprises of an aesthetic subsill tray and trough assembly that allows for smooth water flow from trough to external drain.
The drainage systems seamless appearance and operation makes it an ideal solution for indoor-outdoor areas worthy compliment. Various threshold finishes are available including textured R12, bathroom specific, SureGrip, and electropolish, and are all perfect with any bifold or sliding door assembly. Hydro also offers custom designs.
In spaces that need enhanced waterproofing such as balconies, patios, or outdoor entertainment areas, Hydro suggests installation with optional membrane flanges and weep holes, which prevents water from penetrating the concrete around the drain outlet. Fall options are available in a choice of trough, constant depth, and pre-sloped fall alternatives.
Hydro Zero Threshold Drains are fabricated in strict compliance with WaterMark Levels 1 & 2, validating their drainage quality and safety. Hydro is also a member of the Australian Stainless Steel Development Association (ASSDA).
Get in touch with Hydro for more details on their Zero Threshold Drains. Visit www.hydrocp.com.au today.