Surface Water Drainage Systems for Sports Tracks from Hydro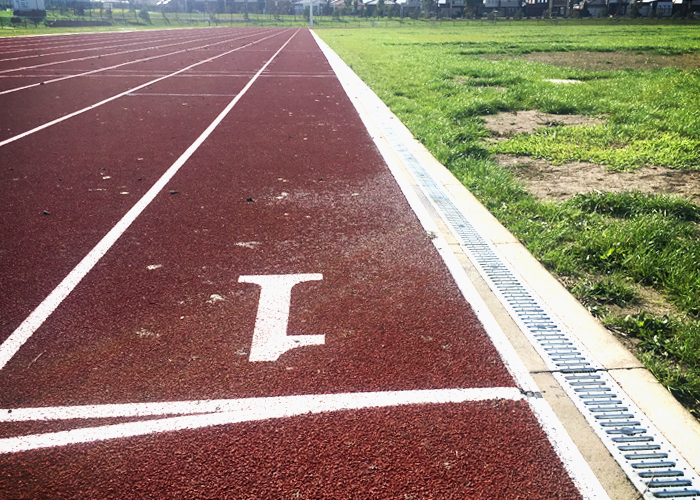 Water management specialists, Hydro Construction Products supplies a high-quality range of surface water drainage systems sourced from renowned manufacturers, MEA Group (Drainage). Surface water drainage systems are vital to the longevity of sports tracks, synthetic turf surfaces, tennis courses, and general sporting facilities. Cheaper or substandard makes and models of civil drainage products can cause flooding, ponding, plus slippery and soggy surfaces. In turn, these issues can make sport tracks inefficient and pretty much useless especially in wetter seasons.
These MEA Group drainage solutions from Hydro are made from the finest raw materials such as polymer concrete or HDPE, which are renowned for their durability, impact resistance, low maintenance, and cost-efficiency. Versatile and easy to install, these surface water drainage systems can cater for almost any in-ground services (such as track & field lighting) and stormwater management.
Available products include;
MEA FLUID - made of light, resilient, and recyclable glass fibre reinforced polyester (GRP). Available in clear opening widths of 100 & 150mm. Loading class up to D210.
MEARIN Plus 200 & 300 - also made of GRP, but with a higher load capacity of up to E400. Ideal for heavy-duty applications such as racing tracks, customisable to pre-sloped plug-in edge rails.
MEARIN Expert 200 & 300 - GRP surface water drain systems, available with a galvanised steel edge rail to service class F loading.
Sports Slotted Grate & Channel System - designed for the overlay athletic tracks.
Light Duty Transverse Grate or Ductile Iron Longitudinal Grate options.
GRP In-Line Sumps available on request.
Hydro is proud to have completed successful installations of these surface water drain systems on several sport fields such as: Perth Arena (WA), The ANZ Stadium (FIJI), AAMI Soccer Stadium (VIC), Craigieburn Athletics Track (VIC), Moore Park Golf Club (NSW), and more. For more information, visit www.hydrocp.com.au today.