Installed at sails are fully optioned ATS Umbrella Systems which include clear roof infills and our new side curtains which give the feel of clear glass rather than clumpy clear and white plastic.
The additive is included during the manufacturing process and while providing attention for the life time of the paint - it won't rub, wash or wear off - it does not affect the paint's excellent durability and application qualities.
Tile Paint was developed to rejuvenate dated or ugly ceramic tiles and create a smooth, glossy professional finish suitable for walls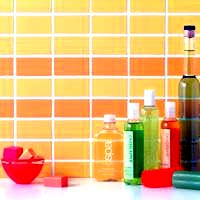 A microban additive is now included in White Knights Laminate and Tile Paint.