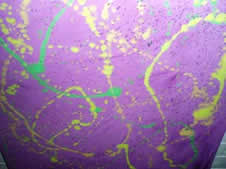 My Five Year Old Could Do Better Than That
Art for art's sake? Maybe, it's all in the eye of the person who looks at it.
The fluorescent greens and yellows have been indiscriminately dribbled across the purple base giving an artistic flair. And another thing, it glows in the dark.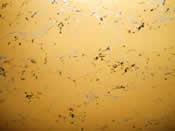 Connect The Dots
This yellow based floor features feather fine marks of black and silver. Rather than the thick swirls of the floors above, these marks are subtle and reflect differently in different light.
If you look close enough, you can see the grey patterns come to life and before you know it, you'll be wondering if just like the stars, there is a deliberate connect the dots pattern to be unraveled.