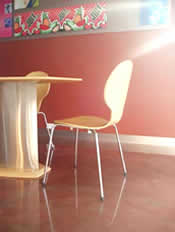 Copper Floors
One and two cent pieces may have gone out of fashion but copper is back! Mixed and hand trowelled with a little concrete shining through, looks spectacular against burnt oranges, stark whites and bone coloured walls, but it's all up to you.
The multilayered colours reflect brilliantly in the sunlight to give a dimensional feel to the floor.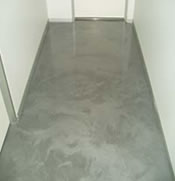 Aluminium Floors
Not just limited to foil and cans, aluminum gives you a completely different feel to your fitout. This futuristic type floor works well with straight lines to give you that symmetrical effect.
Our most recent jobs have included aluminium against whites, mirrors, blacks and of course, other aluminium.
Bronze Floors
To get bronze means you came third at the Olympic Games. Not true anymore. Bronze floors play this amazing trick on you where you think you're looking at a rainbow of bronze.
From the dark valleys to the light peaks, this multi directional floor gives you the feeling of prestige and the feeling you've come first.