Keep your secrets aloft with Breezway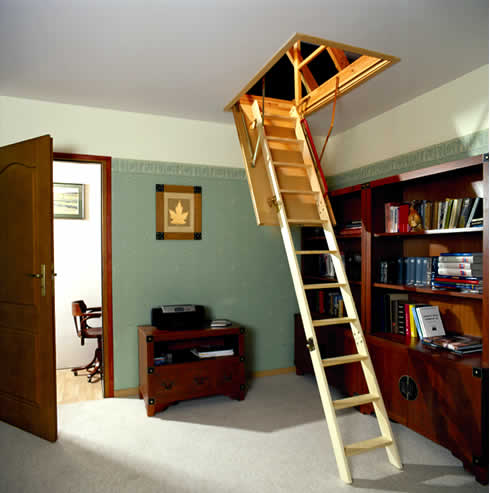 There are some things in the home we use all the time, some things we use some of the time and some things that we never use yet can't bear to part with...
We usually relegate the latter to a spare room or garage - cluttering areas of the home which could be put to better use.
When searching for alternative storage solutions, space-starved home owners commonly overlook the roof void of their homes or are deterred by having to clamber up rickety step ladders or squeeze through tiny manholes.
Breezway Fakro Access Ladders consist of a sturdy timber ladder which folds in three sections, concealed away in the ceiling cavity by a thermo-insulating trapdoor.
Stable when fully opened, ladder treads are grooved to prevent slipping and plastic footing reduces scratching on floors.
The spring-hinged trapdoor opens effortlessly using a rod and the concealed Access Ladder then unfolds as simply as a sofa bed.
Additional built-in safety features include a comfortable distance between steps and a metal handrail.
Constructed from premium knot-free pine with dovetail joins for added strength, Access Ladders are more hard-wearing compared to other systems.
Breezway Fakro Access Ladders have a superior 'rated load capacity' of 160kgs which is the load that the ladder can regularly carry without causing wear and tear - compared to other systems which typically have a rated load capacity of just 110kgs.
These superb timber ladders conveniently retract into the ceiling space when not in use.
The thermo-insulating trapdoor maintains the integrity of ceiling insulation and is finished in white to match most ceilings.
The trapdoor also incorporates a cleverly designed seal to prevent dust from entering the home.
Breezway Fakro Access Ladders Sales and Marketing Manager Simon Carey said Access Ladders were a modern solution to an age-old storage problem.
"Current trends show people are either building bigger homes or expanding their existing dwellings to increase their living space.
"With bigger homes comes a need for more storage space and most people think the only way to incorporate more storage space in the home is to expand outwards. They often forget about the unused space in the roof," he said.
Breezway Fakro Access Ladders open a world of unutilised space which can be used to store lightweight bulky items, usually without the need for structural reinforcement.
Able to be installed above the garage or other rooms in the house with a high roof line, Access Ladders can be used to create vital floor space or an additional room.
Breezway Fakro Access Ladders provide secure, comfortable and easy access to attic areas to safely store winter woollies, precious memorabilia, camping gear, sports equipment and household items.