It's time to throw in the towel in exchange for Xlerator from Excel Dryer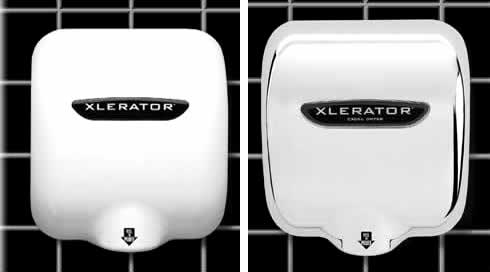 Part Code: XL-W (white) / XL-C (chrome)
Construction:
Cover shall be one-piece, heavy duty, rib-reinforced and constructed of die-cast zinc alloy. It shall be lightweight and rustproof. All exposed surfaces shall be finished with chip-proof electrostatically applied epoxy paint and fastened to a wall plate with two chrome plated tamper proof bolts.
Cover shall have manufacturer's badge and shall be finished in either white paint or electroplated chrome.
Wall plate shall be equipped with three 22mm diameter holes, one of which will be suitable for use with surface conduit.
Entire Mechanism shall be internally earthed.
Mechanism:
Motor shall be a series commutated through-flow discharge vacuum motor/blower rated at 5/8HP / 20,000 RPM.
Heating Element is constructed of Nichrome wire and mounted inside the blower housing. It shall be protected by an automatic resetting thermostat which shall open whenever air flow is cut off and shall close whenever air floe is resumed. It shall produce an air temperature of up to 57 degrees C (135 degrees F) at a 22 degrees C (72 degrees F) ambient room temperature at the hands (102mm/4 inches below the air outlet.
Control assembly is activated by an infared optical sensor located next to the air outlet. The dryer shall operate as long as hand are under the air outlet and cut off 1.5 seconds after they are removed. There is a 35 second lock-out feature if hands are not removed.
Unit requires power supply of 1400W.
Warranty:
The dryer shall be guaranteed to be free from defects for a period of three years. Warranty shall include factory performed labour as well as the repair or exchange of defective parts, at manufacturers option.
Dimensions: 298mm long x 322mm high x 170mm deep.
Weight: 7.3 kgs.