Fence design adds a new dimension - Supabatten Fence Design System™ by Metalart industries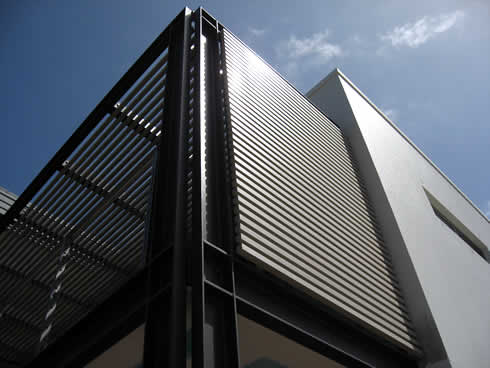 When Metalart Industries designed a customised aluminium batten system for their existing client HPA Mirvac, literally a whole new dimension was added to the company's existing creative range of fencing, privacy and shading products. A trialing of the product in the public marketplace was undertaken, which subsequently sparked huge interest. The Supabatten Fence Design System™ was born.
Publicly launched to the architectural and building industry at this years DesignBuild expo in Melbourne, the unique Supabatten Fence Design received enormous response and enthusiasm from many high profile architects & designers who have since opted to specify the product in various select developments.
The chic Supabatten fence design System was a sudden inspiration to innovative designer Philip Cox after meeting with HPA Mirvac on site at Magenta Shores, where Metalart Industries was already carrying out extensive works with their exclusive Supaslat™ product. The design brief detailed the need to offer a quality, minimal maintenance substitute for the proposed timber batten screens. Necessarily, the Supabatten System was a product 'waiting to happen' and another exciting development in Metalart's ever evolving product range.
Versatility and functionality of this multi-purpose fence design has enabled Mirvac to incorporate the sleek and stylish product into various aspects of their prestigious beachside development at Magenta Shores. The combination of the product's use in overhead and vertical shade screens for their pergolas, and also balustrade, privacy and feature screens, has offered the client the convenience of utilizing a single product, with enduring qualities, in multiple situations.
"The durability of the elegant aluminum Supabatten Fence Design System™ does not even closely compare with the frailties of its wooden counterpart" says Philip Cox. The Supabatten Fence Design System™ is the obvious alternative to timber and, with the battens now available in over 100 stylish powder-coat colours and a carefully selected range of timeless timber finishes, the choice is simple.
Furthermore, the ability to match or complement almost any colour is a bonus which permitted the HPA Mirvac to allocate units or clusters of units their own signature colour therefore keeping a theme throughout their design without it becoming monotonous or repetitive.
Metalart Industries design team strive to provide innovative & exciting products that allow utilization of their designs within top-end developments right down to a fundamental privacy screen to comply with Rescode's overlooking clauses within domestic dwellings.
The exclusive 40 x 40mm Supabatten Fence Design System™ works on the same basis as Metalart's Supaslat System™ - no welds and concealed fixing methods which afford the product beauty and elegance from every angle.
If you would like to discuss the application of our Supabatten or Supaslat Fence Design System™ in your forthcoming projects please email us: admin@metalartindustries.com.au or call on 1300 36 33 70.
The Supaslat and Supabatten System™ is a registered design of and is exclusive to Metalart Industries Pty Ltd