NEWS ARTICLE ARCHIVES
Revolutionary Dux Hot Water Readyhot® System continues to reap awards for water efficiency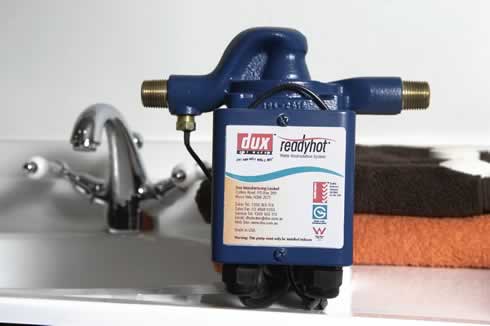 Dux Hot Water's Readyhot® water recirculation system continues to garner awards, winning the GreenPlumbers® Water Efficient Product of the Year Award.
The accomplishment was recognized at the awards ceremony at the 24th Annual Plumbing Industry Gala Dinner, held on November 11 at the Regent Theatre in Melbourne.
This award follows the Readyhot® system's recent HIA GreenSmart Product of the Year award, presented by the Housing Industry Association.
Widely acknowledged as a world beating product by the building and plumbing industry through the awards, the Dux Readyhot® system has been widely recognized for its environmental qualities, in particular its commitment to water saving.
The GreenPlumbers® award recognizes Dux's outstanding commitment to producing an environmental product that demonstrates high water efficiency, innovation in design, and sustainable construction - some of the main criteria in the judging process.
"Dux Hot Water is honored to receive this prestigious award, representing the wide recognition of the Readyhot® system. The product has exceeded plumbers' and home owners' expectations, as a major initiative to improve the environment and water-saving," commented Les Patterson, General Manager for Dux Hot Water.
At a time when Australia is experiencing one of the worst droughts on record, this revolutionary innovation from Dux reduces the amount of water and time wasted while waiting for hot water to arrive at the tap.
Readyhot® water recirculation system, moves the cooled water that has been lying in the household's main pipes, back to the water heater, whilst drawing through hot water that is required at the same time.
The Dux Readyhot® can dramatically reduce the wasted cooled-water flow and waiting time for hot water, helping to save thousands of litres of water each year.
In addition to the Readyhot® environmental benefits, the system saves the amount of time wasted while waiting for the hot water to arrive at the tap, hence providing ease of use and timesavings for households.
Howard Lloyd, National Manager for Dux Hot Water said, "The Dux Readyhot is having a huge impact on how much water is being saved everyday in kitchens, bathrooms and laundries across Australia. Householders are seeing reductions in their water usage and as a huge bonus, are reclaiming the lost time spent waiting for the hot water to arrive."
The Readyhot® is suitable for use in both new and existing homes and is compatible with all brands and styles of hot water systems. To ensure all households across Australia can take advantage of the water and time savings delivered by Readyhot®, the system has been specifically designed to be easily retro-fitted to all existing households.
The Readyhot® recirculates at over 50 litres per minute and up to 89 litres per minute for larger Readyhot® units.
The system includes a remote switch, which can be fixed to a wall anywhere in the house and used to activate the recirculation pump. The Dux Readyhot® retails from around $1,000.