Single to Three Phase Power Converters from Phase Changer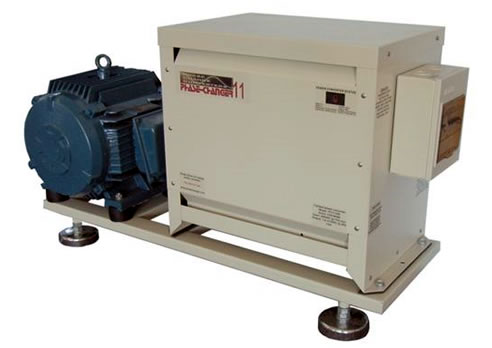 "Phase-Changer, Australia's Smartest Range of Single Phase To 3 Phase Power Converters; a Great Alternative for Your Next 3 Phase Power Application"
Have you ever wanted to run a three phase powered machine, but you only have a single phase power supply available?
The Phase-Changer three phase converter changes a 240V or 480V single phase supply into an equivalent 415V 3-phase output, which is just like a utility 3 phase supply. It will efficiently operate any 3 phase equipment.
PHASE-CHANGER CONVERTERS:
Any Machine, Any Application
Groundbreaking Microprocessor Based Custom Controller, Entirely Australian owned and designed - And Now Being Exported into Asia And Europe
Fast, Simple Installation. No Waiting For Utility Upgrades
Cost Effective Solution For Most Applications
240v Or 480v Input Converted To 3 Phase 415v Output
Plug In Models To 3kw(4hp)
Hard Wired Models From 4kw(5.5hp) To 64kw(85hp)
Power Factor Correction Standard On All Models
Reliable & Highly Efficient
Light Starting Load: Designed to Operate On Rural Supplies
Ideal For Hard Starting Motors, Multi-Motor Loads, Welders, Refrigeration & Air-conditioning Systems, And Even CNC & PLC Controlled Machines
3 Year Genuine Warranty On All Phase-Changer Converters
Order a Phase Change Converter before November 18th to get 20% OFF Plus a bonus installation pack valued at $1200. Click here to find out more.