Environmentally Friendly Decorative Concrete Floors by Sexy Floors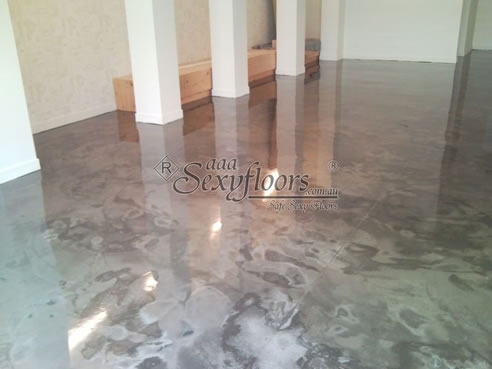 Sexy Floors can be laid over any new, old and damaged concrete or tiles. We can even waterproof, cove, ramp and level the floor. In relation to tiles, we use a self-levelling solution that runs through the grout lines, making the surface level and cement like. This is sometimes a good alternative to jack hammering up older tiles. Unfortunately, our product isn't able to be applied over timber floorboards, however, if cement sheeting is applied over the top, we're able to use our product.
Sexy Floors are in the business of creating unique designer floors at affordable prices. The product we use is called epoxy resin but not just any resin - ours is made exclusively for us and only trained applicators can apply our product. In simple terms, resin is poured on a prepared surface, trowelled or rolled out then is left to cure (set). Because it's broadcast across the floor, it is seamless and bonds direct to the substrate (concrete).