Hydrovar Pump for Hydronic Heating System from Kelair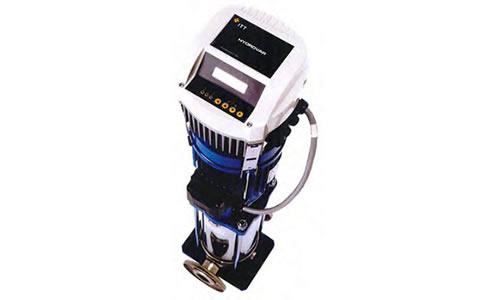 Case Study
Sales Engineer Peter Doran (TAS)
Hydrovars in control
Kelair was contacted by an engineering consultancy firm to assist with the selection of pumps for a hydronic heating system they were designing to provide temperature control within a new building development.
The system design required two pump sets - one for the heating water loop and one for the cooling water loop - with each pump set containing one duty and one standby pump. Both loops needed to have water supplied at a constant pressure but with the ability to automatically vary the flow rate according to the demand on the system.
These criteria clearly pointed us in the direction of a variable speed constant pressure pump system and based upon a multitude of excellent past experiences in constant pressure pumping applications, the Lowara / Vogel Hydrovar system was selected.
The Lowara / Vogel Hydrovar system combines a variable frequency drive with a dedicated pump controller, all in one compact unit that can be mounted to any standard motor or wall-mounted if required.
Each Hydrovar controller has features including an hoursrun meter; low-pressure shutdown; thermal protection and automatic alternation all within the Hydrovar head unit; as well as the ability to maintain a pressure to within 2% of the desired set pressure.
Both pump systems were supplied as skid-mounted packages complete with common suction and discharge manifolds containing isolation and non-return valves for each pump, and a surge protection panel to prevent damage to the Hydrovar controllers in the event of a power surge.
The surge-protection panels were fitted with a main power supply isolating switch; surge suppressors and separate circuit breakers for each Hydrovar unit; pump run and pump fail indicator lights and Volt-free contacts to enable connection to a Building Management System (BMS).
Kelair regularly builds constant pressure pump packages for a variety of applications including municipal water pressure boosting for subdivisions; domestic water supply for factories, hotels and holiday resorts and various mechanical services applications including heating systems and we can customise a system to suit most requirements.