Aluminium Slot Wall Shelving from Microslat Australia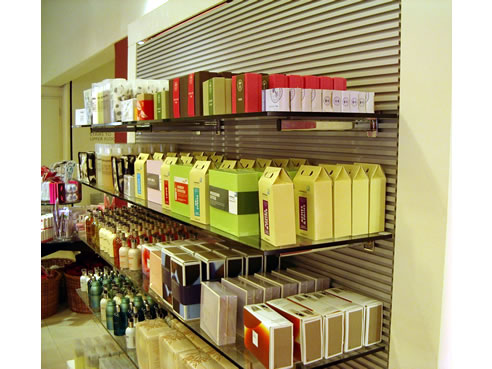 New "MicroSlat" 2010 Brochure Launched
Microslat International Limited and Microslat Australia Pty. Ltd. have just launched their new 2010' brochure illustrating the benefits of designing and specifying "MicroSlat" solutions for retail and library interior projects.
This brochure is a compilation of "MicroSlat" products and systems tailored to suit any application for light or heavy duty high capacity merchandising display requirements and can be downloaded from either of the microslat.com or microslataustralia.com.au websites.
"MicroSlat" has just been designed and specified for use in the new "WIZZ Games" store at Sydney's International Airport new International Duty Free Shopping area along with the new "Lucky Charm Newsagents" in Sydney's Center Point Shopping Tower.
"MicroSlat" display systems are perfect for Libraries, Newsagents, Pharmacies, Clothing, Giftware, House Ware, Sporting Goods and Surf Wear stores along with Product Showrooms due to the superior high capacity strength of this system.
Designers, Architects and Specifiers across Australia are learning about the benefits and cost savings of specifying the "MicroSlat" brand of aluminium slot wall products and accessories to meet green friendly building requirements.
"MicroSlat" is made from highly recyclable aluminium and offers the ability to be removed and relocated with ease. This coupled by the simple, time saving installation required over time consuming timber systems, allows installation teams to finish projects in less than half the time.
"MicroSlat" is the only aluminium merchandising display system to offer solutions for both heavy and light duty applications with the ability to fit standard slot wall fixtures and accessories.
"MicroSlat" can be powder coated or anodised to any standard color range to suit themed interior finishes or accentuate existing design elements.
"MicroSlat" is available for both single and double sided applications to suit wall, floor and counter displays which offer both unique form and versatile functionality in one solution.
Weather it is a challenging design brief for a multifunctional community library or a high tech interior show room finish, the freedom to create award winning projects with "MicroSlat" Australia brand solutions is so simple and easy.