JDN Monorail Hoists Successfully Tested at -45° by Pacific Hoists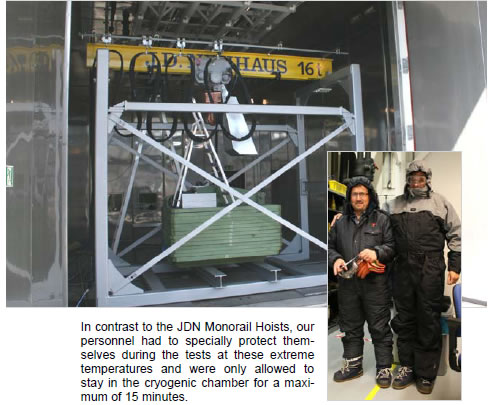 The mobile JDN Test Rig in the cryogenic chamber
The temperature range of JDN Monorail Hoists in standard version is -20°C to +70°C.
For a special application at temperatures of minus 45°C, JDN has developed Hydraulic Monorail Hoists EH 20, which meet this demands.
Prior to delivery this hoists had to be tested under real conditions, i.e. at -45°C. But where? In the Netherlands our technicians found a suitable cryogenic test chamber and tested the hoists during several days at -45°C, at a nominal load of 16 t.
To achieve smooth starting of the Hydraulic Monorail Hoists at these extreme temperatures, they are fitted with a preheating device which increases the temperature of the drives to -25°C before operation by means of the standard hydraulic supply.
The JDN Hydraulic Monorail Hoists are suitable for operation with cryogenic hydraulic oil and work efficiently in a temperature range from -45°C to +40°C.