Bi-Fold, Sliding & Stacking Louvre Shutters from Shutter Concepts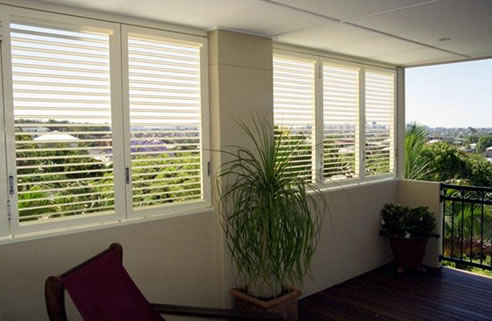 Our Louvres are manufactured from high grade, architectural quality extruded aluminium.
Commonly used as balcony shutters in a variety of configurations - Bi-Fold, Sliding, Hinged, Fixed, and Stacking.
There are many profiles to choose from, however the Aero 90 (90mm blade) has proved to be Australia's most popular.
Other shading systems such as Batten Screens, Awnings, Ventilation Grilles, Stand off, and Custom Designs are also available.
Aero 90
The Aero 90 is a 90mm double skin blade shaped like an aircraft wing.
This shutter has been designed for the domestic high-rise installations alike with a unique anti-rattle design.
This is without doubt the most technically advanced louvre shutter in Australia today.
Cyclone testing has been conducted up to Cyclone Tracy forces.
Each louvre blade has been load tested to 100kg, making it the strongest on the market.
The blade has a 135-degree rotation for total controllability.
A special blade lock has been produced that is encased within the body of the louvre with a stylish knob to slide the lock into place and provide you with security.
All stainless stell fixings ensure that this is a once only investment and are a maintenance free alternative to timber shutters.
Aero 90 profiles can also be located on the outside of the building and used as an awning style shutter.
This style can also be hinged at the top and wind in and out from the inside.
Fixed panels are available and can form very impressive screens such as that on the Mclean Grand Stand at Queenslands Rugby Union Headquarters, at Ballymore.
Custom shutters can be manufactured for those occasions where the standard design won't suffice.
They're available in any standard powder coat colour.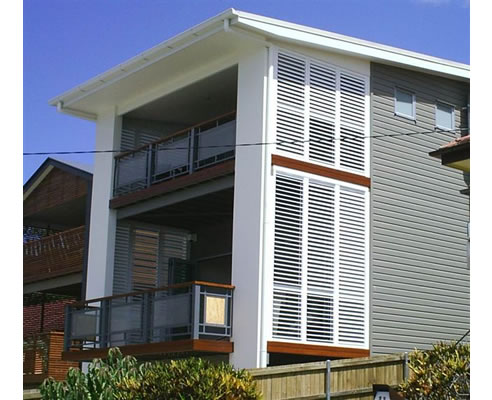 For more information please contact us: