Thermalock Pipe Insulation and Support from Thermobreak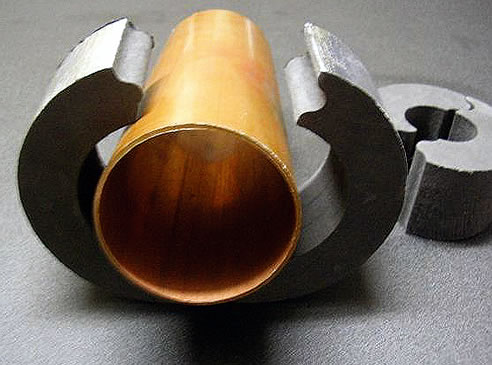 Thermaloc is light weight and extremely tough. Just place the two pieces over the pipe, squeeze together gently, and apply AS1530.3 approved foil tape ensuring complete coverage.
Advantages Advantage to the end users
Built in Loc
Once tightly taped, Thermaloc will prevent any air movement through the join. This is especially important in cold line applications to prevent potential air condensation.
Tough & Durable
Thermaloc pipe supports are made of high density, crosslinked, closed cell polyethylene foam. As they are closed cell they absorb negligible moisture, and retain their insulation properties throughout the life of the installation.
Non Erosion with Pipe Movement
Pipes move with contraction and expansion, eroding the ferrule. The tough PE foam will resist movement and prevent gap formation over time.
Health & Safety
As the blocks are preformed there is no need for cutting, so there is no dust and no mess. They do not emit fi brous particles during installation or over time.
Performance Life
Thermaloc is closed cell and unaffected by water and humidity. This ensures continual performance over the life of the installation.
Chemical Resistance
Thermaloc is resistant to detergents, diluted acids, alkalis, alcohols, esters and fungi ensuring performance in even the most demanding applications.