Hydro MEA® RIN Drainage Channel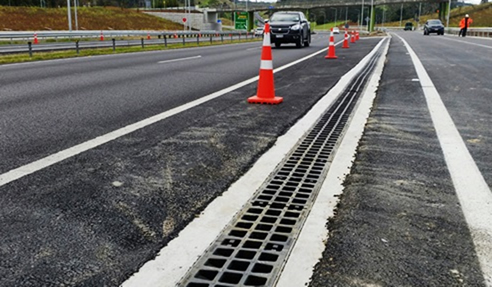 A drainage channel is designed to serve as a pathway for water. With unpredictable weather due to the threats of climate change and global warming, heavy rain can fall anytime. Water from rainfall when stocked and left un-evaporated can lead to dangerous road surfaces and worse, illnesses like dengue fever and malaria. The installation of adequate drainage channels prevent such occurrences.
Hydro construction products exclusively distributes MEA® RIN, a heavy duty drainage channel that provides drainage solutions for all applications including infrastructure & traffic, environment & agriculture, garden & landscaping, urban architecture, industry & trade and home & garden.
What Hydro MEA® RIN Drainage Channel is Made of
The material used for the production of Hydro MEA® RIN gutter systems is MEA GRO (glass reinforced plastic). This innovative, premium material is the same material used for a wide range of applications with high demands, such as airports, roads, race tracks, open space parking areas and other applications. However, not all GRP is the same. The difference lies in quality and specific properties.
The MEA® RIN Drainage Channel relies on the SMC technology (Sheet Molding Compound) which is a composite of polyester resin, mineral fillers, additives, and glass fibre mats. SMC has the highest strength and dimensional stability, so it can be inferred that Hydro MEA® RIN Drainage Channel is the ideal gutter system product. Providing extreme stability even at high temperature fluctuations, combined with a very low thermal expansion, SMC does not deform after hardening, but remains stable and durable in shape. Hydro's extensive experience and expertise with this material guarantees lightweight and durable channels.