Landscape Drainage Channels with Galvanised Steel Edge from Hydro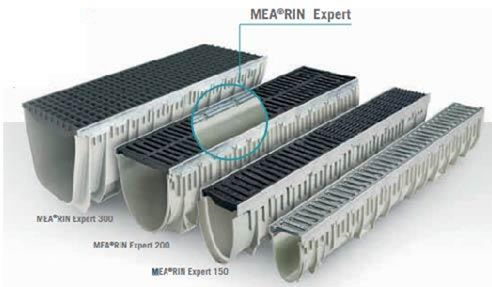 MEA Group has certified expertise in the design, production and distribution of linear drainage systems, including trafficable grates, storm and electric pits, and landscape drainage channels with galvanised steel edge. As an industry leader in the waterproofing sector, Hydro Construction Products has cultivated ties with the German-based company to become its exclusive supplier in Australia, as well as New Zealand.
Hydro + MEA Group
Hydro International was established in 2003, anchored by a successful partnership with MEA Group. In service for more than 130 years, MEA Group is responsible for drainage systems in Formula One circuits, vehicle test tracks, Air Force bases, airport terminals, petrol service stations and other high-profile projects across the globe. Hydro trusts their longevity, prolific resume and world-class service meet the high demands of the national building and construction industry.
The collaboration between Hydro and MEA Group has proven to be a great success. Since then, Hydro's drainage division has been enlisted to supply water management products to large-scale developments, including the Melbourne Exhibition Centre, Adelaide Oval, and AAMI Park. In addition, Hydro is the elite team behind drainage systems in service stations, ports and rail systems across the country, all the way to New Zealand.
Landscape Drainage Channels with Galvanised Steel Edge
Hydro offers the MEA® RIN range of gutter systems for all kinds of applications. The entire range is manufactured from innovative glass reinforced plastic (GRP), processed by MEA itself using state-of-the-art sheet moulding compound (SMC) technology. Production harnesses a composite of polyester resin, mineral fillers, glass fibre mats and additives, resulting in the highest strength and dimensional stability possible. In action, MEA® RIN systems deliver outstanding performance, maintaining stability and low thermal expansion even at high-temperature fluctuations.