Digital Locker Locks with Fingerprint Access from KSQ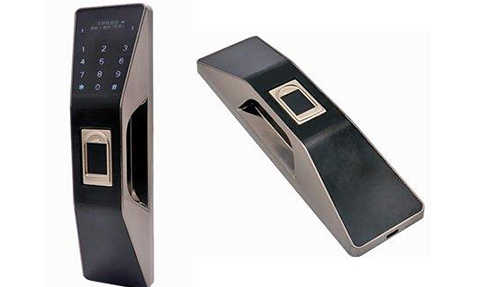 Digital Locker Lock with Fingerprint, PIN and Card Access
Welcome to the KSQ-KR-80E digital locker lock with Touch Screen Keypad, Biometric Fingerprint Scanner and a Mifare 13.56MHz RFID Card Reader.
It is the only miniature locker and cabinet lock on the market offering the flexibility of all three methods of user access that can be installed on just about anything where you need multiple technologies for enhanced security over user access. Install in minutes to lockers, drawers, cupboards and office furniture and conveniently covers most other locker lock door preparations without patching.
It features a clear and legible LCD touchscreen that displays various settings and menus to assist lock administrators with programming user access, setting lock modes and security levels as well as a visual audit trail of user access by time and date. And if all these features don't excite you, it also has audible voice prompts for users and manager for incorrect code, fingerprint or card, close door and even voice warning when the battery level is below 4-volts.
In management mode, the backlit touchscreen keypad also displays the battery level time and current date and time. The voice prompt feature offers 3 different volume levels to suit most environments where background noises vary, including a wide range of commands such as a welcome message, along with a low voltage alarm, telling the user the batteries are low and need to be changed when the lock's batteries fall below 4Volts.
The KR S80E offers multiple access modes such as:
Standard mode: CodeCard or Fingerprint opening methods
High-security mode: Dual user code, dual user fingerprints to open
Combination of both fingerprint and code to open
Up to 25 individual User Codes, 25 User Fingerprints, and 25 User cards can be stored and easily programmed from the lock Keypad, for a maximum of 75 individual users in total.
An emergency power input provides external power in the event of flat batteries simply by inserting a mini USB Power Bank into the port at the base of the lock. In event of flat batteries or battery changes the lock memory will retain all the programmed user codes, RFID cards and fingerprints enrolled allowing access. For applications where batteries are not preferred the KR-S80E features a power input for hard-wired installations that where up to 50 locks can be powered from the single low voltage plug-pack.
Voice prompts include:
Welcome
Error Code
Error Fingerprint
Error Card
Lock Open
Close Door
Exit
Warning
Low battery
Easily programmable all from the keypad and screen of the lock, without a PC or software required.
Measurements:
Lock Body dimensions 80 x 80 x 22 mm
Keypad dimension 169 x 47 x 27mm
The distance between mounting holes is 64 mm
Please visit www.keywatchsystemsqld.com.au for more information today.