KRS-80E Biometric Fingerprint Locker Lock from KSQ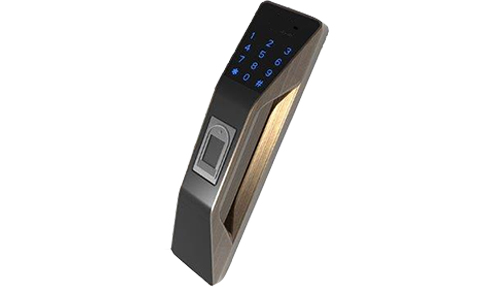 KRS-80E from KSQ
The KSQ-80 digital locker lock with a biometric fingerprint reader, backlit touchscreen, and the integrated card reader can be installed on just about anything you need to secure, such as lockers, drawers, cupboards and office furniture. It features a clear and legible LCD screen along with a highly sensitive backlit touchscreen keypad and displays for ease of programming and operation, which also displays the current battery level. The voice prompt feature, with 3 different volume levels to suit all environments, includes a wide range of commands such as a welcome message, along with a low voltage alarm, telling the user the batteries are low and need to be changed when the locks batteries fall below 4Volts.
The KR s80E has multiple different access modes available, including the Standard mode; Code, Card or Fingerprint opening methods, along with multiple high-security modes, like dual code, a dual fingerprint to open, or a combination of both fingerprint and code required to open.
Up to 25 individual user codes, 25 user fingerprints, and 25 user cards can be stored and easily programmed in from the locks Keypad, for a maximum of 75 individual users in total.
The KR-S80E features a detailed audit trail that can be viewed using the management code. It shows each transaction with a time and date stamp, along with the User ID of the code, card or fingerprint that was used.
It features emergency power input, so if the batteries die while in the locked state, the user simply inserts the emergency power device, and the lock will retain all the user codes/cards/fingerprints enrolled allowing access. Also available is a plug pack for hard-wired applications, with up to 50 locks powered from the single 240 GPO.
For more details on KSQ-80 digital locker lock with biometric fingerprint reader, visit www.keywatchsystemsqld.com.au.