NEWS ARTICLE ARCHIVES
Barrierboard by Soundblock Solutions to reduce noise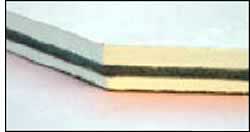 Barrierboard is a 32mm composite of 16mm fire rated plasterboard, 6mm isolation layer and 10mm plasterboard which, when fixed to existing stud or masonry walls or ceilings, reduces noise transmission. When added to one side of existing office partition wall with 10mm plasterboard lining both sides and acoustic infill noise transmission reduction is 14dB and reduction of 90% perceived levels.
Barrierboard Specifications
Sheet sizes include 2400 x 1200 x 32mm or 2700 x 1200 x 32mm.
Acoustic performance Rw 48 - Barrierboard 1016 one side of 90mm timber stud wall. With 10mm plasterboard opposite side with polyester infill. This is 14dB reduction on standard 2 x 10mm plasterboard lined wall.
Acoustic performance Rw 60 Ctr-9 - Barrierboard 1016 on one side of 90mm double timber studs wall, Polyester 250 infill, 16mm fire rated plasterboard opposite side.
Performance comparisons and CSIRO Test Reports available on our website or by request.
Installation instructions with every order.
Delivered to site.