Composite Decking Installation with INEX>MAXIDECK from UBIQ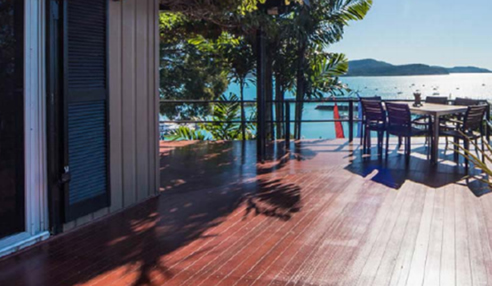 INEX>MAXIDECK is a high performing cementitious composite decking material by UBIQ. Being the provider of light weight and sustainable products for the construction industry, nothing more than exceptional quality can be expected from all of the products they put on the market.
How to Install INEX>MAXIDECK by UBIQ
INEX>MAXIDECK is deemed as 'decking by the sheet'. Featuring a tongue and groove system in each decking board, installation has never been easier!
1. Plan the deck - planning includes measuring the surface area of the deck and preparing the joists and the desired coating system. UBIQ recommends that a slight fall away from the building should be considered in order for water to run off the surface. If the purchased INEX>MAXIDECK sheets are set aside to be used for future applications, it is important that they are stored lying down on a flat surface and fully covered in a well-ventilated dry space.
2. Coat all edges before fixing - a single first coat should be applied to all edges of the INEX>MAXIDECK prior to fixing. A brush should be utilised in order to ensure that the tongue and groove sides are completely coated and are allowed to dry off.
3. Fix the boards and touch up construction cuts - a 6mm bead of INEX>BOND should be applied to each joist and a 2mm to 3mm bead to the inside of the groove and then firmly push the tongue and groove together before fixing. A pre-drill and countersinking tool should be used as a part of the fixing process.