Exterior Apartment Cladding from UBIQ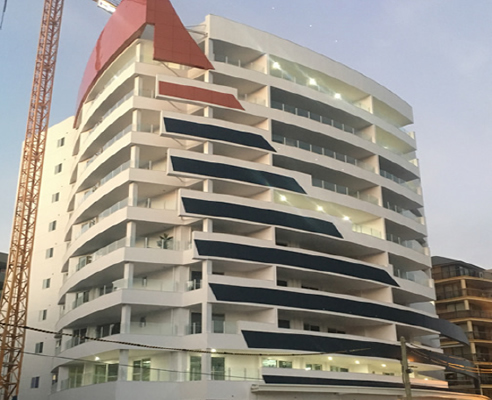 Case Study - INEX>RENDERBOARD Clads High Rise Apartments
PROJECT: Apartment Tower Rickard Road, Bankstown NSW
WHEN: April 2017
PRODUCT: INEX>RENDERBOARD
ARCHITECT: Marchese Partners
This 10 storey high rise apartment building at Bankstown NSW (nearing completion) has been completely clad in INEX>RENDERBOARD providing a functional and highly attractive finish.
The project was originally specifed in AAC Panels but was redesigned to be built with INEX>RENDERBOARD, reducing the cladding thickness from 75mm to 16mm thick. Approximately 8,000m2 of INEX>RENDERBOARD was installed for the project, smooth side with a paint finish.
INEX>RENDERBOARD is a lightweight cladding system and was selected for the project as it meets the necessary fire rating required, it has passed the CSRIO weather test and provides acoustic performance at least equal to the AAC facade.
The results have been so succesful that developer has placed orders for its next six high rise buildings.