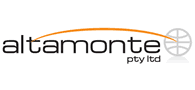 Company Profile
Altamonte develops both long-term partnerships with its suppliers and ongoing profitable relationships with Australian retail channel partners.

Our core competency is in developing and executing a comprehensive localised business strategy prior to commencement of importation and distribution. We work collaboratively with suppliers to ensure that strategies achieve maximum market penetration and also establish a defendable market position.

Altamonte has core expertise in distributing quality products via multiple retail channels and multiple channel strategies, in order to maximise growth and to deliver competitive advantage. This is achieved via channel experience, innovative practices, superior market intelligence and strong relationships across the value chain.

Altamonte's talented team brings a suite of competencies in business strategy, sales, marketing, product management, logistics - and their highest priority, customer service. Through innovation, the use of the latest technology and resources, our team's focus is to maximise profitable growth for our suppliers and establishing sustainable competitive advantage for the product ranges we represent.

Utilising strategic partnerships brings specialised skills and allows Altamonte to operate with a low and variable cost structure and pass savings through the value chain, resulting in competitive pricing structures and higher profits for our clients.
Altamonte Pty Ltd
admin@altamonte.com.au
* If you would like to update the text on your profile page, please contact Spec-Net.