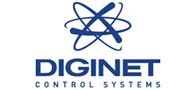 Company Profile
Diginet markets intelligent lighting systems that will revolutionise the way lighting, in particular LEDs and emergency lighting, is controlled. Our ethos is - make life easier with smarter solutions that offer 'State of the Art Simplicity'™.

Diginet is a premium lighting control systems company which commenced operations in 2013. Diginet was established to market both networked and standalone lighting system products being developed within the iLP Division, headed up by Jason Gerard, a proven industry pioneer. In its short history, Diginet has already become a leading category innovator with its RAPIX™ Addressing system winning the prestigious international DALI BEST PRODUCT AWARD for 2014.

The significant shift from conventional lighting to LEDs over the past few years has presented major challenges – both in the way lighting is controlled and in the compatibility of the technology. Diginet provides the latest in lighting technology that meets Australian and DALI Standards.
Diginet Control Systems
1300 95 3254
96-112 Gow Street, Padstow, NSW, 2211
* If you would like to update the text on your profile page, please contact Spec-Net.