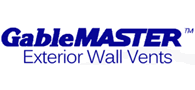 Company Profile
GableMasters gable vents are ideal for new home builders or renovators and can be used on all types of materials; timber, steel, cladding or brick.

These USA made Gable Vents cool your roof by encouraging air flow which reduces interior temperatures (featuring a larger venting area than industry standards require), whilst 'dressing up' gable ends better than other alternatives.

These Gable Vents offer unique key features that are now the benchmark in the industry. Installation is very simple with the range of fixing solutions and different sizes available. These gable vents offer external trims to help achieve a finished appearance once the vent has been installed.

GableMaster External Wall Vents
03 9720 4333
138 – 140 Bayfield Rd East Bayswater North, VIC, 3153
* If you would like to update the text on your profile page, please contact Spec-Net.