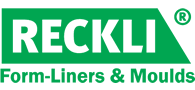 Company Profile
RECKLI is a world leader in the design and manufacture of elastic formliners and moulds and liquid rubbers for the production of such formliners and moulds.

For attractive surface modulation and shaping of exposed concrete. RECKLI Formliners are used in precasting factories and in cast-in-situ concrete. Since 1968, we have the experience with structured formliners, competence in all questions about textured and exposed concrete and Millions square metres of structured concrete as reference and trusted evidence.



Reckli Form-Liners & Moulds
1300 728 83767
84 Hunter Road, Derrimut, VIC, 3030
* If you would like to update the text on your profile page, please contact Spec-Net.