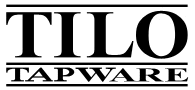 Company Profile
HOW A TAP WORKS IS JUST AS IMPORTANT AS HOW IT LOOKS

Tilo Tapware (pronounced tee-lo) have been marking out a reputation as a quality Australian tapware and accessories manufacturer. We started in the manufacturing of bathroom accessories such as pop-up wastes, and whilst we continue to offer an extensive range, we have expanded our product range to include tapware, showers, spouts, sinks and accessories for the kitchen, bathroom and laundry.

Our philosophy is to provide products designed and engineered with you in mind. We care about the ongoing life and functionality of our products, and are committed to continuous research, development and improvement. Our bottle traps and pop-up wastes carry the Australian 'Watermark' certificate of conformity and our mixers are supplied with 'certified' ceramic cartridges and flexi hoses. Tilo's commitment to quality and style means that you can select from our vast range of innovatively designed products to enhance your surroundings, and be ensured a lifetime of lasting pleasure.


Tilo Tapware
03 9357 8456
30 Humeside Drive, Campbellfield, VIC, 3061
Spec-Net Shop for Tilo Tapware
* If you would like to update the text on your profile page, please contact Spec-Net.