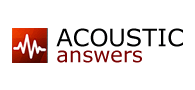 Company Profile
Acoustic Answers are highly efficient at reducing undesirable sound reflection and general loudness in all kinds of interiors and designed with clean lines to suit today's functional minimalism, our STANDARD, EX STOCK* noise reduction range consists of lightweight acoustic panels, adherable via common construction adhesives in white, pale grey and black coated and lightweight acoustic baffles with simple options for suspension from light gauge cable in white or pale grey.
Our products are simple, clean and rapidly installed. For those on a budget they are very suitable for DIY.

There are no special health, safety or OHS issues or handling requirements for our acoustic absorbency products. Our acoustic panels and acoustic baffles do not "shed" and do not require encapsulation. There is no residual smell or debris during installation of our sound absorbing panels and baffles.

Acoustic Answers Pty Ltd
02 9620 7395
71 Regent St, Redfern, 2016, NSW
* If you would like to update the text on your profile page, please contact Spec-Net.