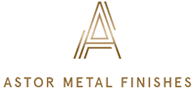 Company Profile
ASTOR METAL FINISHES provide beautiful decorative metal finishes for all types of projects and they are often the secret to achieving a level of prestige on a project which paint and powdercoats cannot provide.

Astor's finishes are seen on all manner of projects: Australia-wide, even as far as NYC and London. They are prevalent in hospitality, retail, single & multi residential, public and commercial projects and on products such as hardware, furniture, lighting & signage.

Finishes include Mirror Polished 24Kt Gold, Oil rubbed bronzes, Pearl Black Nickels, Brushed Brasses and everything in between.

The purpose built factory in Sydney has stripping, polishing, plating and lacquer shop all under the one roof which allows an extensive range and possibilities by varying the combinations of all of the processes (before & post plating). All of these finishes can be achieved on any base metal including aluminium, brass, mild steel and stainless steel.

Astor Metal Finishes
02 9727 5622
93 Malta Street, Fairfield East, NSW, 2165
* If you would like to update the text on your profile page, please contact Spec-Net.