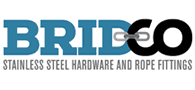 Company Profile
Bridco is the Registered trademark of Bridge & Company Pty Ltd, which is a family owned business first established in 1984. Bridco has since grown to become one of Australia's largest importers & exporters of quality stainless steel hardware.

Originally we were predominantly involved in the importation and wholesale supply of marine hardware, but the Company has expanded to become one of the largest suppliers of stainless steel wire rope fittings and hardware to the industrial and architectural industries. Bridco also specialise in a range of stainless steel Load Rated fittings and Grade 50, 316L stainless steel chain & components.

Our products can be found in a wide and diverse range of industries including mining, fishing, logging, the armed forces, water & wastewater treatment plants, sewerage plants, petrochemical industries, architectural and structural engineering, playground equipment and shop fittings. Our products are widely sought after for both commercial and residential applications.

Bridge & Company Pty Ltd
07 5593 5688
37 Taree Street, Burleigh, QLD, 4220
* If you would like to update the text on your profile page, please contact Spec-Net.