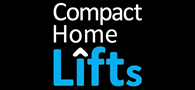 Company Profile
Compact Home Lifts offer a range of unique home elevators which are unlike any other type of residential lift on the market in Australia.

At Compact Home Lifts, our elevators have been designed to specifically fit in the home as an ideal alternative to a stairlift or providing an easier way of getting between floors for homeowners looking to improve their lifestyle.

Unlike a traditional home elevator, the range of Compact home lifts can be installed in virtually any place in an Australian home as it does not require hydraulics or a supporting wall.

The Compact Classic Home Lift and Compact Plus Home Lift both travel on a twin rail system and run off the normal AC power in your home so the lift can be plugged in like any other household appliance.

Both home elevators can comfortably carry two people and are also great for carrying heavy objects. Buying a Compact Home Lift is more cost-effective compared to moving house so homeowners can stay in the home they love and add value to their property at the same.

Our residential lifts are the most compact, affordable and stylish home elevators available.

Compact Home Lifts
1800 904 088
40 Production Dr, Campbellfield, VIC
* If you would like to update the text on your profile page, please contact Spec-Net.