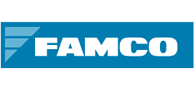 Company Profile
Famco (previously Rham Industries) has been supplying specialised and standard lighting products since 1962. Famco has been supplying lighting equipment and metal products since late 19th century. Famco's key staff has over 200 years cumulative experience in lighting. Projects such as Parliament House in Canberra selected Rham/Famco to supply the special light fittings they required.

This involved the design, manufacture and supply of over 18000 items in over 400 special designs. This is just one of many examples of the expertise and ability of the Rham team to satisfy customer needs. More recently Famco have supplied lighting to the Melbourne Exhibition Centre, new Museum of Victoria, Melbourne Park Hyatt hotel, NSW and Victorian Railways, Canberra University, Eureka Tower, Crown Casino, Paramatta Rail Tunnel, Austin/Mercy hospitals, Freshwater Place, 50 Lonsdale St, Lavarack Barracks, Auckland Hospital etc.

In addition, standard lighting products are sold under the FAMCO brand to fulfil general and specialised lighting requirements in commercial and architectural fields. Famco markets its extensive range of imported and Australian made products in all Australian States and New Zealand, through their own sales offices, affiliated offices, agents, wholesalers and lighting distributors.

Famco
03 9935 7300
Unit 16,The Glassworks, 23-25 Gipps St, Collingwood, VIC, 3066
* If you would like to update the text on your profile page, please contact Spec-Net.