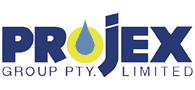 Company Profile
Projex Group is the leading Australian provider of waterproofing systems, railway noise & vibration attenuation solutions, mechanical pipe penetration seals, and protection matting. Founded in the late 1980's our philosophy of providing premium quality products has been a core value of Projex Group since its inception.

Our range of products include;
- Wolfin & Cosmofin Sheet Membranes are two of the very best German manufactured Waterproofing Membranes available in Australia. They are both supplied as Total Systems (Factory Bonded Profiles, Corners, Adhesives, etc.) to complete all aspects/detailing of the required waterproofing project. Both membranes have been certified/tested for use under landscaped areas and are UV stable for exposed installations. Typical applications include Roofs (Green, Exposed, Insulated), Balconies, Terraces, Podium Slabs, Planter Boxes, Tanks, Lift Pits, or Retaining Walls.
- Projex Damtec Sub-Ballast Mat is an isolation & protection mat for all types of railway construction that absorbs vibrations and reduces acoustic emissions as well as structure-borne sound transmissions.
- Strailastic Noise Reduction Systems for Rail includes: Rail Dampers (STRAILastic_A Inox 2.0) and Rail Acoustic Panels (STRAILastic_Infill Panels & STRAILastic_Mini Sound Panels). STRAILastic also produce optimum solutions for track construction in modern transport systems with their Strailastic Light Rail Track Construction range.
- Shockmat Protection Matting is an industry leading protection mat for residential, commercial or industrial applications that exhibits excellent impact resistance & exceeds Australian Standards for noise transfer under hard floor finishes.
- Link-Seals, which can be used in conjunction with Century-Line Sleeves, Cell-Cast Discs, External Sleeves and Steel Sleeves. The Link-Seal Mechanical System is the premier method for permanently sealing the annular space between pipes & the penetrations they pass through. Link Seals provide long term protection against Liquids, Oils, High Temperature & Fire Resistance (2hr) where required. Typical industry installations are Gas Plants, Oil Refineries, Hospitals, Water & Waste Treatment Plants where the sealing of these penetrations is extremely critical & of the highest importance.
- Ranger II Casing Spacers, used to isolate carrier pipes within casing pipes and ease the installation of a carrier pipe when it is dragged for long distances through a casing or penetration.

Whether its waterproofing, pipe and cable penetration seals, protection matting or railway track & noise management systems, Projex Group has the correct engineered solution.

Projex have been a market leading supplier of engineering & waterproofing products for over 25 years.

Projex Group
02 8336 1666
2/1 Military Road, Matraville, NSW, 2036
* If you would like to update the text on your profile page, please contact Spec-Net.