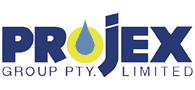 Company Profile
Projex Group is the leading Australian provider of waterproofing systems, railway noise & vibration attenuation solutions, mechanical pipe penetration seals, and protection matting.

Our range of products include;

- Wolfin & Cosmofin PVC sheet membranes are two of the very best German manufactured waterproofing membranes available in Australia. They are both supplied as total systems and have been certified for use under landscaped areas, are UV stable for exposed installations & suitable for most finishes installed over them. Typical applications include roofs (green, exposed, insulated), balconies, terraces, podium slabs, planter boxes, tanks, lift pits, etc.

- Projex Damtec Sub-Ballast Mat is an isolation & protection mat for all types of railway construction that absorbs vibrations and reduces acoustic emissions as well as structure-borne noise transmissions.

- Shockmat Protection Matting for residential, commercial or industrial applications that exceeds Australian Standards for noise transfer under hard floor finishes.

Whether its waterproofing, pipe/cable penetration seals, protection matting or railway sub-ballast mats for noise and vibration reduction, Projex Group has the correct engineered solution.

Projex Group
02 8336 1666
2/1 Military Road, Matraville, NSW, 2036
* If you would like to update the text on your profile page, please contact Spec-Net.