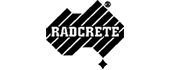 Company Profile
Established in Sydney in 1987, it was Radcrete Pacific's mission to provide the constuction industry with a simplier and more effective way to waterproof concrete. Since then Radcon Formula #7 has successfully waterproofed and protected tens of millions of square meters of concrete worldwide. The products remarkable performance matched with straight forward application makes it the most efficient, economical and low risk choice for concrete waterproofing.

This remarkable innovation means that Radcon #7 will remain active in concrete, constantly re-activating to achieve its lifetime waterproofing performance. It does this by utilising occasional moisture to react with freshly liberated free calcium in concrete in a continuous cycle. This ensures future hairline cracking remains watertight even under conditions of high thermal stress. Our extensive testing and on-site experience backs up this claim and we have not found a single product that can match this performance.

The only way to ensure you are receiving a genuine Radcon #7 waterproofing technology is to deal directly with Radcrete Pacific Sydney or our nominated global representatives as represented on our website.
Radcrete Pacific Pty Ltd
02 9362 3511
Suite 2, Level 3, 100 New South Head Rd, EDGECLIFF, NSW, 2027
* If you would like to update the text on your profile page, please contact Spec-Net.