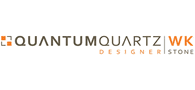 Company Profile
WK Marble & Granite Pty Ltd is Australia's leading distributor of both natural and engineered stone under the WK Stone and Quantum Quartz brands. Established in 1989 and remaining under Australian ownership, WK – Quantum Quartz provides innovative design options to the architectural and design communities as well as homeowners.

With warehouses and showrooms in Sydney, Melbourne & the Gold Coast, WK have your stone needs covered in the eastern capital cities. The showrooms provide a pleasurable viewing experience allowing you to comfortably explore all stone options for your project. The selection includes over 250 varieties of natural stone and 50 varieties of Quantum Quartz (engineered stone). A network of distributors also covers Tasmania, SA and WA.

At any given time WK – Quantum Quartz holds an inventory exceeding 30,000 slabs of stone featuring Marble, Granite, Limestone, Onyx, Travertine and Quantum Quartz. This ensures that an abundance of stone readily available for your large projects. Aside from slabs of stone, WK – Quantum Quartz also carry numerous types of natural and engineered stone tiles in a variety of sizes. These tiles are appropriate for both residential and commercial use and have featured in many shopping centres, hospitals, hotels, airports, casinos, and office buildings as well as the finest homes throughout Australia.
WK Marble & Granite
02 9772 9888
129 Fairford Road, Padstow, NSW, 2211
* If you would like to update the text on your profile page, please contact Spec-Net.