Floor heating is quickly becoming an expectation in all quality homes - Comfort Heat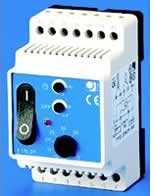 With the Comfort Heat thermostat range it has never been easier to connect your floor heating into your C-Bus / home automation system.
The Comfort Heat ENT thermostat is din rail mounted and interfaces with your home automation system, allowing you to adjust temperature and set back temperature with your existing sequence. Program your floor heating to be warm when you're home and, as you walk out the door, have your floor temperature drop to a lower setting, becoming cost effective.
Comfort Heat Australia stocks a range of floor heating thermostats, from simple temperature controls, to seven-day programmable thermostats that don't require home automation.