Attic Ladders - convert your roof space to storage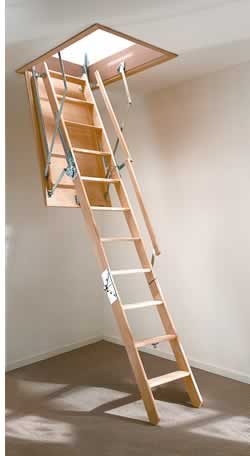 Do you wish you could clear the clutter and create more space in your living area? Attic Ladders, Australia's leading supplier of attic ladders and roof space solutions provide the widest range of fold away attic ladders that discretely hide away in the ceiling, and are simply the easiest way to access the extensive storage potential in your roof.
By reclaiming the unused space in your roof, you'll discover an enormous amount of room to safely store an array of bulky out of season or seldom used items. Things that you currently have stuffed away in wardrobes, under the bed or in the garage - clothes, heaters, fans, sporting equipment, children's toys and prams. Almost anything can be hoarded away in your roof leaving your living space more efficient and clutter free.
Once you've discovered your roof space you'll be amazed how functional it can be. You'll be back to talk to us about turning your attic into a dust proof room, lining the walls with a flame retardant foil or White Cell insulation material to keep the dust out; finish the floor with structural grade yellow tongue flooring that is termite and water resistant. You can even brighten things up with a skylight or roof window.
Alternatively, if you're thinking of renovating, Attic Ladders' sister company, Roof Space Converters can convert your unused roof space into an extra bedroom, bathroom, rumpus room, study area, home office or parents retreat. The options are limited only by your imagination.
Attic Ladders is a family owned company, who introduced the concept of the fold down attic ladder to Australia over 30 years ago. We offer the widest range of attic ladders anywhere in Australia, with a choice of both timber and aluminium attic ladders to suit most roof types for commercial and domestic uses and are the only national supplier of Attic Ladders.
Attic Ladders are the attic experts when it comes to roof space solutions.
If you need more space, take the first step and call Attic Ladders today on 1300 655 525. Or you can visit us at our showroom at 820 Princes Hwy, Tempe, NSW.