Anti-slip stair treads and safety track from Birrus Matting Systems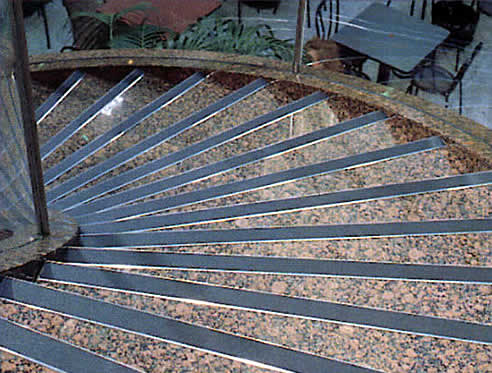 Make stairs safer and smarter with anti-slip stair treads. Designed to minimise the risk of inherent in stairways whilst complimenting the existing decor; anti-slip stair treads will not wear, break, or fade and can be used to re-profile and cover polished or chipped steps.
Anti-slip stair treads are ideal for interior or exterior use, and are available in a range of colour's on an anodized brass or aluminium base. They can be quickly, easily and permanently installed with adhesive.
Safety Track 3100 & 3200
The number of serious injuries caused from slipping and falling in the work place in startling. Serious injuries result in painful medical problems which could lead to financial loss, legal entanglements, long-term disabilities and insurance difficulties.
Safety Track 3200 coarse boasts a tougher grit surface than our 3100 line. This provides even more protection to help prevent slips and falls which could lead to serious injury.